While being the primary UI developer for OpenRepeater, I've always done my development work without actual repeater hardware. I work in a small office when doing the my development where space it at a premium. I've always simulated the radio hardware with a breakout/breadboard setup. I've been able to inject audio and DTMF commands into the input side and simulate a COS signal and use a powered speaker in place of the transmitter.
This worked great and has served me well for a couple years. I've gotten to the point where the requirement to interface and interact with actual RF hardware has become a must to aid in development. I certainly didn't have room for a full blown repeater in my office and duplexer cavities. I needed to come up with something small that I could set out of the way under my desk and run an interface cable up to my work space. My initial thought was a pair of GM300s and simply run the TX radio into a dummy load.
I put out a blog post back in February to the ORP community looking for some Motorola connections that could possibly donate a pair of GM300s for the cause. Not long after I got a response with an even better solution.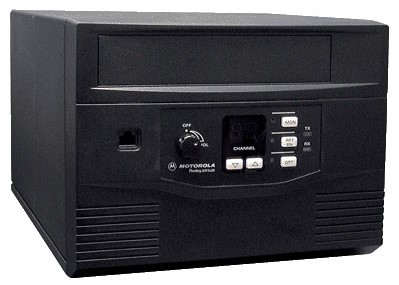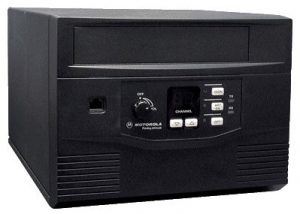 I want to express special thanks to Chris Wren, N4VDR, for donating a Motorola GR1225 compact UHF repeater to OpenRepeater to aid in development. For those unfamiliar with what a GR1225 is, it is a compact repeater enclosure that includes a full duplex TRX unit (which has the 16 pin accessory connector), internal power supply, and an internal notch duplexer. The RF deck is also capable of supporting both wide and narrow FM. This is a great little unit and will serve the function well.
I've spent a few weeks getting what I need to get it programmed, testing, and getting the united cleaned up. I initially bypassed the internal duplexer and was running straight to a dummy load. I was working on some coding as well so that has kept me busy. I was recently able to borrow a spectrum analyzer with a tracking generator and get the duplexer reasonably tuned up. So now it is functioning free standing connected to an antenna in my attic. Everything has been great so far and this will be a valuable aid in my development and testing workflow.
I am very please to see the OpenRepeater community growing and my hopes is that will only increase. In the future I hope to get a VHF radio to simulate and test the link aspects of a typical RF link setup. Everyone that has donated either with some type of hardware or financial contributions is very much appreciated and you are the backbone that helps keep the project going.
In conjunction with this, we've been working hard to get version 2.0.0 of OpenRepeater released. I've got the rewrite of build script pretty much completed and have run some initial builds and things are looking good. There is some bug squashing to do, but things are looking promising and version 2.0.0 of ORP is on the horizon…and yes it has been a long time coming.
Thanks to those who have contributed. Your donations make it possible to move OpenRepeater forward!