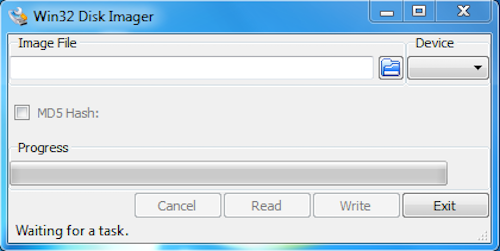 Download and install the Win32DiskImager utility (if you haven't already).
Obtain the latest copy of the disk image for the project from our Downloads page.
Extract the image file from the downloaded .ZIP file, so you now have "distribution-name.img".
Insert the SD card into your SD card reader verify it's drive letter.
Run the Win32DiskImager (Depending on your computer and os , you many need to run with Administrator rights.)
Select the image file you extracted above.
Select the drive letter of the SD card in the device box. WARNING: Make sure to select the correct drive! You could inadvertently damage your hard drive if you are not careful.
Click Write and wait for the write to complete.
Exit Win32DiskImager and eject the SD card.