By default when you setup your OpenRepeater controller a courtesy tone will already be set for you. You have a couple options that you can change depending on your preferences.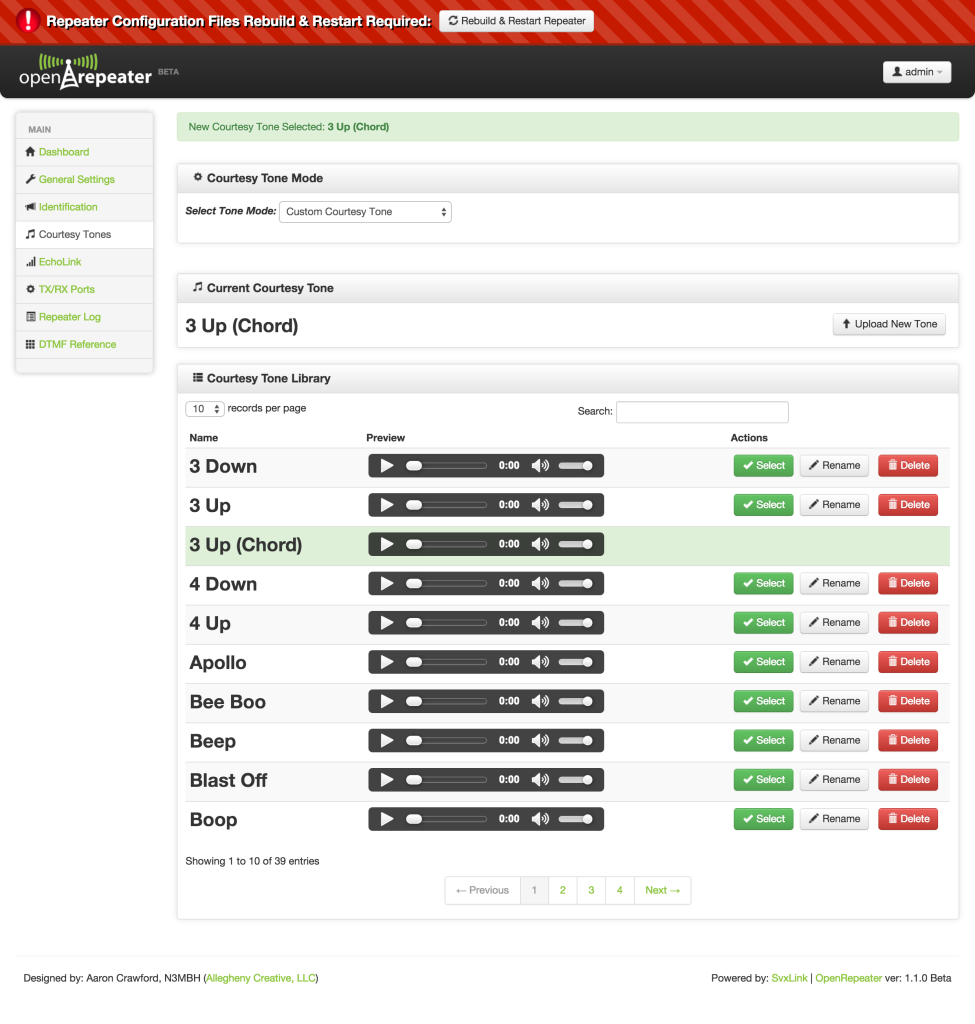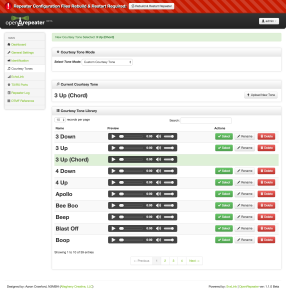 Disabled – This will disable the courtesy tone altogether. This may be preferred for "quite" repeaters, for testing, or if the tone is controlled externally or sent from the users' radios.
Beep – This is a low-key generic beep. Nothing special here but it serves the purpose of letting users know it's their turn without all the fanfare.
Custom – This allows the most options and customization. You are already provided with subset of custom tones that you can select from or you can add your own.
To set these setting, first you must login to the web control panel. From there, choose "Courtesy Tones" from the menu. At the top of the Courtesy Tones page you can choose the mode: Disabled, Beep, or Custom (all described above).
For Disabled and Beep modes there are no options besides simply selecting that mode.
For Custom Courtesy Tones first choose the option from the mode drop down, then you will be shown a list of available courtesy tones and other options. Depending on the number of courtesy tones on your system, they may be presented to you on multiple pages. There is navigation to change pages and set the number of courtesy tones that are displayed at one time.
You can preview what each courtesy tone will sound like on your web browser by clicking on the play button next to the desired tone. To selected a tone, choose the select button next to the desired tone. The active tone will have an 'active' flag next to it in the list as well as being shown at the top of the page. You also have options to rename and delete any of the courtesy tones in the list.
You can upload your own courtesy tones and they will show up in the library of tones. The file should be in MP3 or WAV format and any excess 'dead air' should be trimmed off of the clip. DO NOT UPLOAD MUSIC, CLIPS OF MUSIC, OR OTHER COPYRIGHTED MATERIAL…IT'S ILLEGAL. OpenRepeater will do some background audio conversion to set the sample rate as it is needed for playback by the system.
[info_box style="announcement"]
Note:
Upon updating, your settings will be saved; however, they will not become active until you choose to "Rebuild & Restart" the OpenRepeater controller. You may continue to update other settings and when you are ready to apply them to the repeater, choose the "Rebuild & Restart" button that appears at the top of the page and confirm to proceed.[/info_box]