Hardware Interface Update
ORDER BY MARCH 31st: To be part of the first group order. See more information about the timeline below.
Well…we wanted to announce some hardware updates. You are probably wondering where we stand with our hardware interface that we posted here. It's not dead just yet, just delayed while we work out some issues with onboard sound.
The First Interface Design – SVXLink Card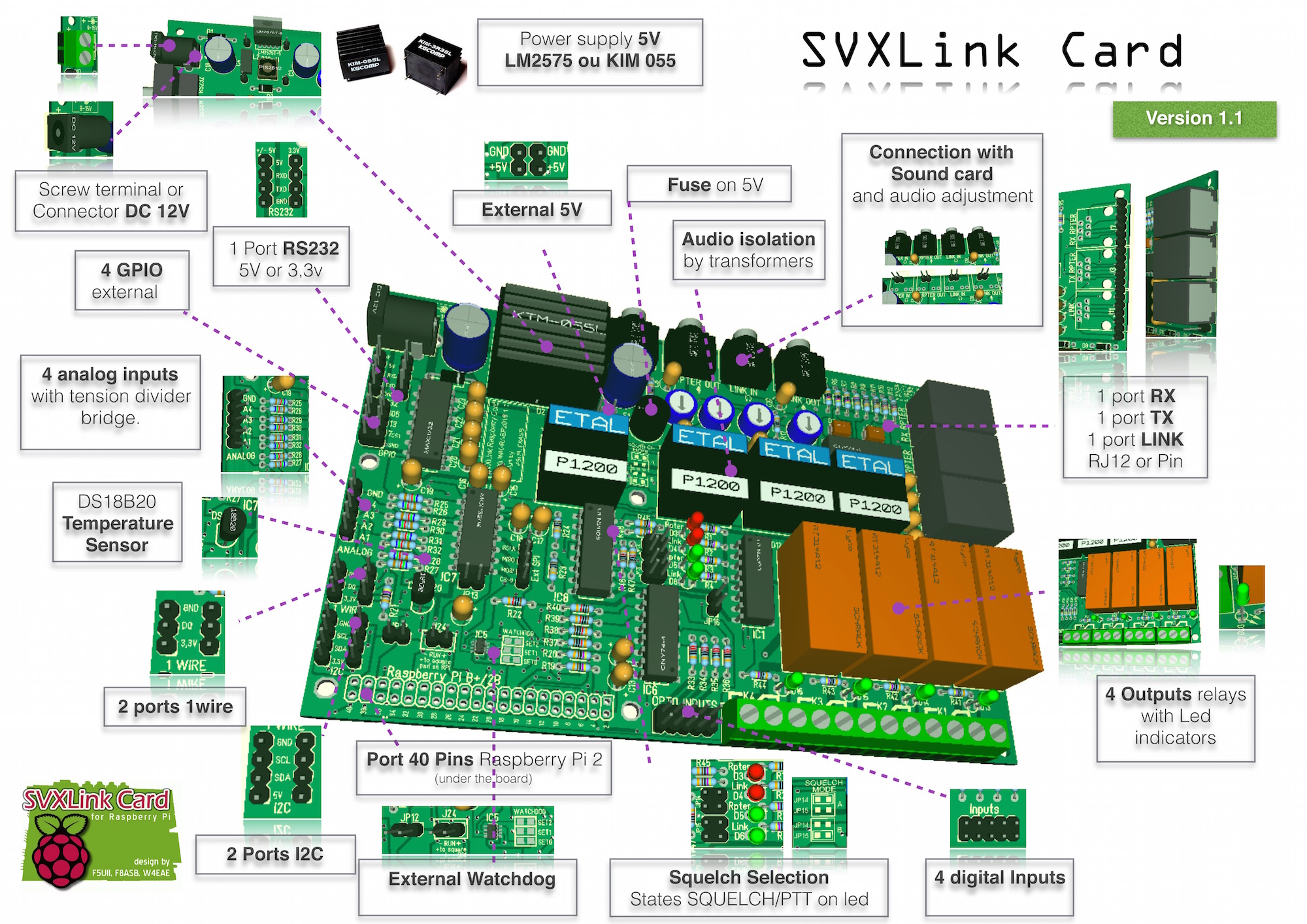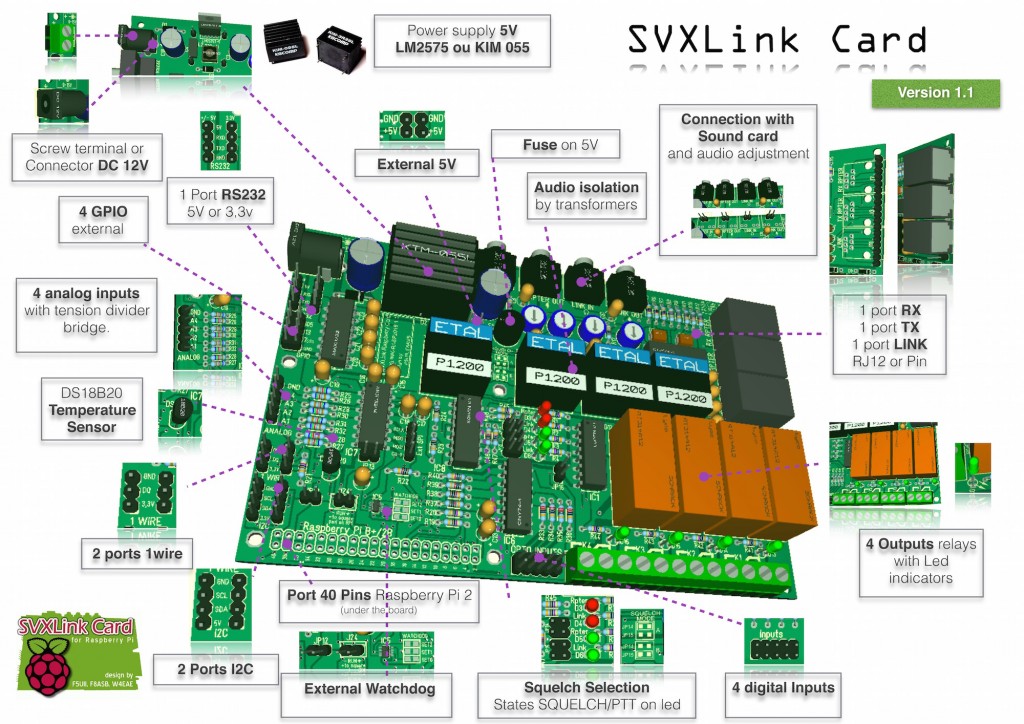 In the meantime. Juan has been working on a bigger interface board. This uses mostly through hole components which will allow us to offer it in kit form. This board doesn't have the onboard sound, so you will still need to use a USB sound card in conjunction with this; however, it has more features like relay control (see the list below).
Right now the card is going to be offered as a kit. You will be able to buy the PCB and the components separately. There is a wait in getting this, so be sure to sign up. This will be sent from France from the online storefront that Juan and his colleagues have setup.
Proposed Timeline:
Shop Open for Pre-Orders
March 31st – Bulk order to provider parts
April 30th – Receive Parts
Beginning of  May – all packages sent to customers
Here is an overview of the features of this interface board. 
Dimensions 5.9 in x 3.9 in(150mm x 100mm)

External power supply 12 Volts, regulator on board 5 Volts with LM2575 or KIM055

2 -way radio repeater (RX and TX) port  and one-way to transponder or Link by radio

Audio level ajustement with potentiometers (In/Out)

Connections to transceivers by pin (Dupont) or by RJ12 connector (6P6C)

Audio isolation transformers

Connect to USB audio cards by stereo audio Jack or pins (Dupont)

LED Indicators for PTT and SQUELCH detection

Normal or reverse SQUELCH detection selectable by jumper.

4 relays for external control with LED indicators

4 digitals inputs

Protection by opto isolated on digital Input and Output.

4 analogs inputs (0-3.3 Volts)

2 1-wire ports, 1 temperature sensor DS1820 on board

1 RS232 port

2 I2C ports

External Watchdog with ajustable timer set by solder jumpers.

40 pins connection for Raspberry Pi
Short video of bench testing relay functions (French)
What Features will OpenRepeater Support?
Out of the box, OpenRepeater will support the essential features such as interfacing the sound card connected to the Raspberry Pi to the radio ports via the onboard circuitry that includes audio isolation and level adjustments. It will also support the COS and PTT features of the ports. We are also currently working on our own implementation of relay control code that will allow operation of the relays via DTMF and possibly the Web GUI as well. We hope to role that into the next release and hopefully have it available around the time that the first  boards start showing on folks doorsteps.
Where to Buy
Juan will be selling the components and the board for user assembly at there ShopChip Store and you can also learn more about the board here.
As you will see the interface will be sold in kit form. Maybe not for everyone, but we need to start somewhere. Get yours today and stay tuned for more updates.
Buy/Reserve Your Kit form ShopChip Today!